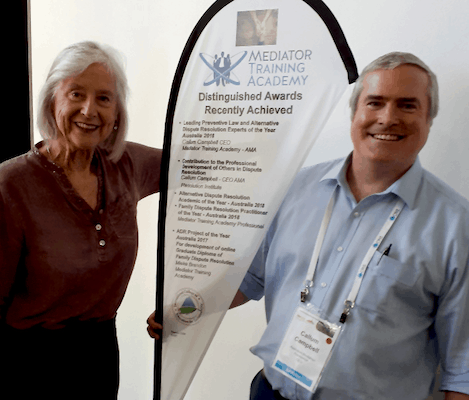 Congratulations to Mieke Brandon on her new FDR textbook, Mediating with Families 4th edition, launched at the 2019 National Mediation Conference.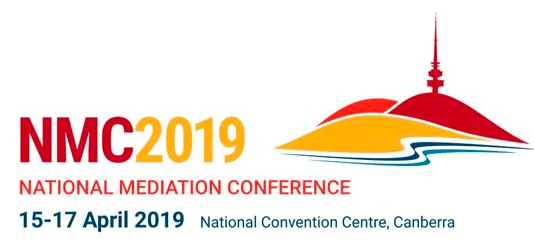 Mediators and Family Dispute Resolution Practitioners from all around Australia looked on as the new book was launched at the National Mediation Conference.  The Conference featured guest speakers on a wide variety of topic relating to mediation worldwide.  The conference took place over the course of 3 days and gave over 500 attendees the opportunity to discuss innovations in the mediation industry with their peers.
The AMA and The Mediator Training Academy exhibit at the National Mediation Conference.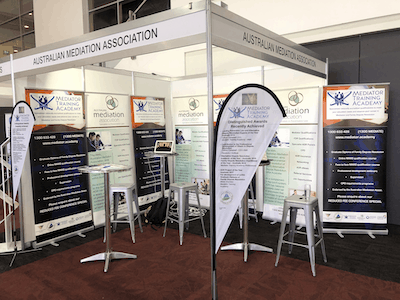 The Australian Mediation Association (AMA) and the Mediator Training Academy were at the exhibition speaking with previous and current students and offering training programs such as the Nationally Accredited Mediator certificate as well as the nationally accredited post graduate qualification, CHC81115 Graduate Diploma of Family Dispute Resolution.  The AMA also offered the opportunity for many professional mediators to sign up with the Australian Mediation Register in order to promote their services.
Family Dispute Resolution Career opportunities continue to grow throughout Australia
Although many professionals who qualify as family dispute resolution practitioners (FDRPs) choose to become self employed private practitioners, there are also many full and part time positions available that offer great career choices.
Professionals in Psychology, Law, Family Law, Social Work and Mediation represent a majority of those who choose to study the CHC81115 Graduate Diploma of Family Dispute Resolution; however, there are pathway programs available that allow anyone to study for this qualification.
FDR is compulsory in fulfilling the requirements of the Australian Family Court for family dispute resolution prior to family court orders. This enables Family Dispute Resolution Practitioners to issue the required 60i certificate to the Family Court of Australia.
For more information on becoming a Family Dispute Resolution Practitioner, please contact the Mediator Training Academy at: or phone:  1300 MEDIATE.